UnseenWorld
The world as I see it...
I am of a firm belief that the current ANC government simply has too much power in government. The National Assembly has 400 seats, of which the ANC has 264 seats or 66%, a 2 thirds majority. The second closest is the DA with 67 seats or 16.75%.
Simply put, since the ANC have the majority, they have the power to unilaterally approve any resolution, even if everyone else in parliament is against it, they have 66% of the votes. What is good for Democracy is when the parties need to work together in order to achieve what is best for the country, a democracy where one party does not have a majority of the power.
While the DA does have the title of the "official opposition", the last 20 years have shown that it struggles to break the 20% Barrier.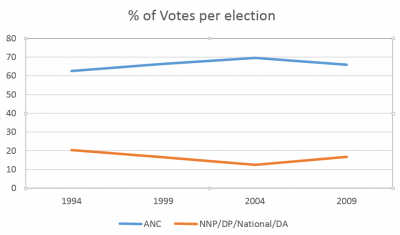 Even with the current trends, we might be lucky to see the ANC's support shrink back to 1994 levels but still well above 60%.
...